H
ey
E
veryone,
I kept meaning to post this up I just never got round to it
but its better late then never. I actually knocked these sketches up the very first week of the Unit 7 brief.
I never found the time to post
but never the less I have them here now and they helped communicate my initial vision of what will become our fully realised animated star "
Charles"
.
The images above show my initial thought
and as things gradually moved forward the features began changing, moving from real to caricature. I like seeing this development in anything really makes me think where it began all the way back
with page 1 idea a
. Just quick throw away sketches, but even now there has been further
creative influence from my partners Anita and Lydia :)
There has been soul searching within this brief and obviously lots of hits and misses when trying to fine tune an idea.
We began with just an idea and then a discussion over adapting environments
got our talks wandering further and further, since then its more or less been a back and forth between me and them and then a mini talk with our client
(Alan)
to discuss further details.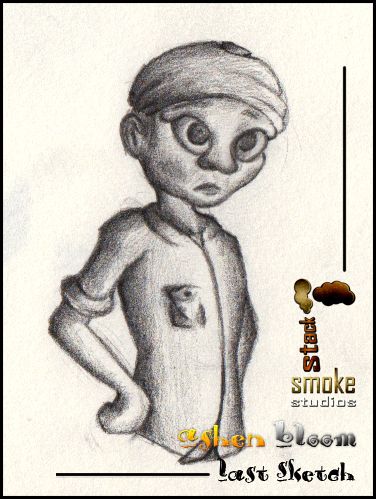 Having seen there vision I'm glad we are at a place where we can look back and
see the journey already and only after 4 week
s. Lastly
the image above here (Last Sketch) is something I drew in the train at the end of week 2
. The eyes and weak chin were my key factors there was just something totally innocent about it.
I've never really drawn kid characters
so it was nice to have a play with a few ideas even if it was brief. I will still be considering a couple of minor concepts which I will probably drive from sketches.
I just don't like the line tools in Photoshop.
Anyway that concludes my little post on this matter
, Anita has gotten our final turn arounds busted out so next week I should be in a place to begin the rigorous modelling process. which shouldn't take me much more
then a week I wouldn't have thought.
Catcha Later,
Over & Out,
xXStItChXx